Photo 4
These are some shots of my 2004 Suzuki SV 650
I don't have too many pictures of the bike, I only owned it for 55 days. Lack of experience and some hard headed thinking on my part led to me totalling the bike shortly after buying it. You can catch all the details of the wreck in the "04 Suzuki Bio" link on the left.
Pic 1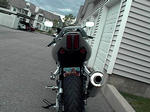 This is a shot of the rear of the bike after I built my own fender eliminator kit. I removed the rear fender and recessed the blinkers into the rear fascia. I did it in my spare time, in my garage.
Pic 2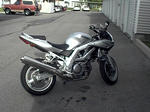 The right side of the bike, shortly after I bought it.
Pic 3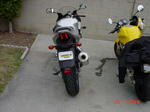 Here's a shot of the rear of the bike with the stock rear fender in place. You can see how much sleeker the bike looks with the rear fender gone in the first picture.
Pic 4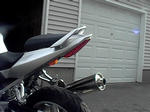 This is what my the bike looked like from the side after my home made fender eliminator.